Wainscoting is now a real piece of furniture, and it completes and enriches the most elegant houses.
The Xilema wainscoting are available in linear or detailed options, and they try to combine the needs of style and functionality.
---
Versailles
A never ending classic style, for timeless elegance.
This model is made up of panel, smooth wainscoting and staff bead, with the addition of a superimposed frame.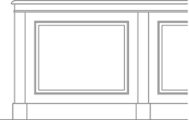 ---
Caserta
The careful workmanship is reflected in the richness of detail.
The Caserta wainscoting comes with panel, hooked staff bead and shaped wainscoting.